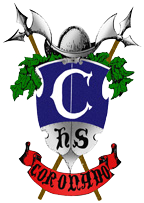 PURPOSE: The intent of the CFFF Promise Scholarship is to encourage Coronado students to continue their education beyond high school and enhance their career opportunities. The award of up to $5000 over a two-year period gives students the ability to attend a Maricopa County Community College or certificate granting, accredited Arizona Technical or Trade School for two years at $2500 per year paid at $1250 per semester directly to the school.
Application Due Date:
Monday, March 21, 2022 by 3 pm (Hand in to GEAR UP office at CHS)
Winners/Parents/CFFF Meeting:
Monday, April 18, 2022
Celebration Dinner:
Wednesday, May 18, 2022 following senior award program.
ELIGIBILITY:
Student must:
Be a graduating senior at Coronado High School and have been enrolled at Coronado High School for at least one year at the time of application
Show need by

Qualifying for the federal Free and Reduced lunch program
Receiving a waiver for the ACT/SAT/PSAT fees
Qualifying for reduced sports/academic fees

Intend to enroll at a Maricopa Community College or certificate granting, regionally accredited technical training/trade school for the year following graduation from Coronado High School
Have a 2.5 grade point average or higher in high school
Complete the CFFF Scholarship Application form

This in an online application
You will need to upload as part of the application:

A resume (including school activities, community activities and work history)
An unofficial transcript through December 2021

Sign a CFFF PROMISE SCHOLARSHIP Acceptance form if you win a scholarship
Attend an initial meeting with CFFF coaches before school ends
TO MAINTAIN THE SCHOLARSHIP:
Student must:
Be enrolled as a full-time student (typically 12 credits/semester)
Maintain a 2.5, or higher, grade point average
Make regular progress toward a degree (AA) or certification as defined by the Maricopa Community College or technical/trade school
At a minimum, meet with a representative of the CFFF at mid semester and end of semester (for each semester enrolled) to give progress report and discuss any issues and/or concerns regarding the college experience or next steps.
Keep the foundation apprised of any address or phone number changes
IF FOR ANY REASON THE SCHOLARSHIP RECIPIENT FAILS TO MAKE REGULAR PROGRESS TOWARD COMPLETION OF AN AA DEGREE OR VOCATIONAL CERTIFICATION OR FAILS TO MAINTAIN CONTACT WITH THE FOUNDATION, ANY UNUSED SCHOLARSHIP FUNDS ALLOCATED ON BEHALF OF THAT STUDENT WILL REMAIN WITH THE CORONADO FOUNDATION FOR THE FUTURE PROMISE SCHOLARSHIP FUND.